Create a Meal Account for your Student at Collingswood Public Schools!
---
Follow the steps below to create a meal account.
Once you create your account you can:
Add Students
Add funds via credit/debit card
View/Set Reminders
See your students' transactions
*You do not need to make a deposit to be
able to see transactions. *
1. From any internet browser, go to www.schoolpaymentportal.com or You can login to the Genesis parent portal and click "lunch balance" at the bottom of your student summary page to skip to step #3.
2. Click LOGIN

3. To create a NEW account: click the Create Account button. To login to an existing account: click "Parent Login".


4. Fill in the required information, click Create Account.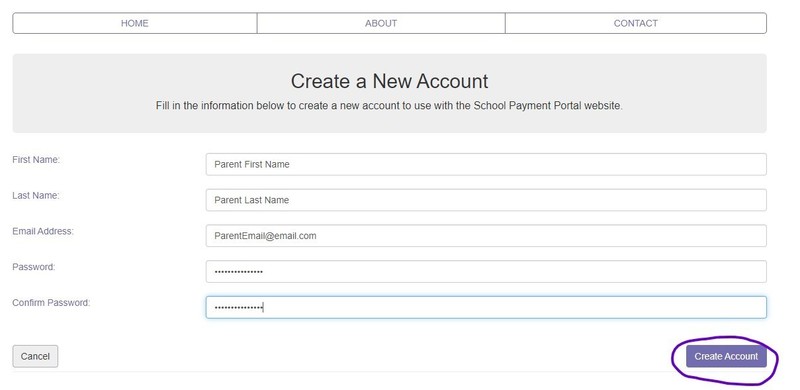 5. After successful account creation- click " Login" to continue
6. Enter your credentials and click "Sign In"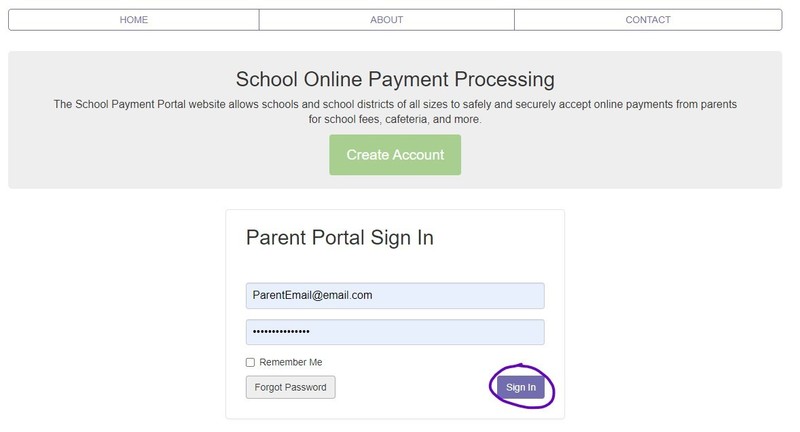 7. On the Student Access Page, Click "Add Student". (The Student Access
Page will be your landing page if you have not added any students. You may be asked to verify your email address first.)

8. Enter the Zip Code of your students' school. Click "Continue"
*Enter zip code 08107 for Sharp Students and 08108 for all other Schools*

9. Click "Select" next to your students' school. (There will be other schools listed from other districts in 08108/08107. Please select the appropriate school for your child.)
* For Pre-K students at Oaklyn select Collingswood Pre-School as your school
* For Pre-K students at Dayton Ave location select Collingswood Early Childhood
Center as your school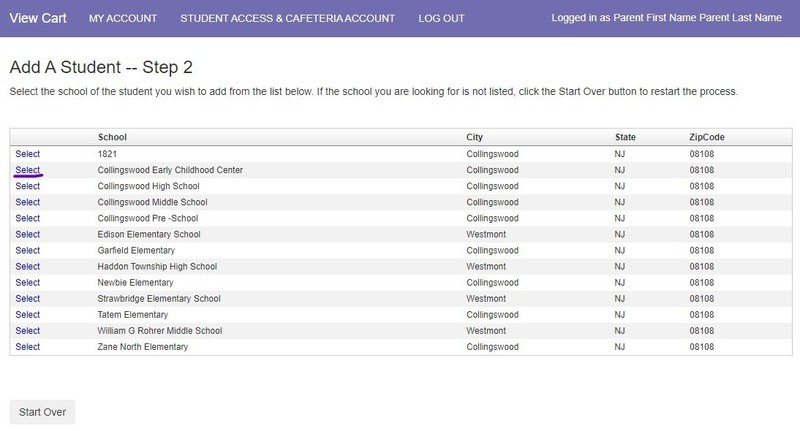 10. Enter the required information and Click "Continue" button. Verify your information and

11. Click "Add Student" next to your students' name.
12. You will be returned to the Student Access page. You are able to add additional students as
needed.

FEE STRUCTURE Credit Card Payments (Visa, MasterCard, Discover) 2.3% + $1.00 per
transaction EXAMPLE: Parent/Guardian Deposits $50. Credit Card Payment: The
parent/guardian would be charged $50 that is deposited to the district bank account as well as a $2.15 convenience fee paid to cover the fee processing expense